Clay and Paul! These boys are 8 days apart in age! They hit it off great!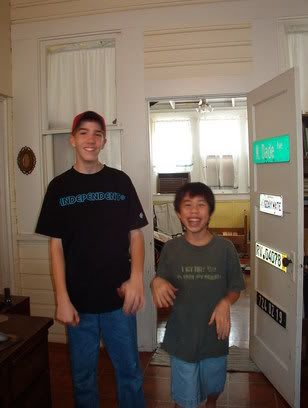 Yesterday, Dana (DeeFL) and her four children came to visit us. Dana is lovely and just full of joy. Her children were so well behaved and sweet. Paul told me that they were normal, nice, and FUN! He was asking today when they were coming back down. Dana and I ate brownies, held her new daughter, and visited. Dana took Paul and me out for lunch at one of our Chinese restuarants. She was great company and I enjoyed getting to know her. I am hoping that we can arrange another visit soon.
After they left, I had to teach piano. All of my students came yesterday and we got their recital pieces picked out. It is always a BIG relief for me when those are chosen and the children are working on their selections. The recital is the week after Mother's Day this year. I have to decide on what I am going to give the students at the recital. I need to get the trophies chosen and ordered.
My last student came late and left late. As soon as her mother got her, we went shopping to get the guys some new clothes for Disney World. Paul told me that he needed new jeans and some shirts. That kid has me wrapped around his finger. Mark even bought himself some new casual slacks to wear. I couldn't believe that he spent money on himself. Michael picked out a few shirts and a pair a long jean shorts.
We came home and ate left-overs rather late. ugh Eating late is not a good way to lose weight.
The Cotillion director called and wanted to know if Mark could film the classes on Sunday. I reminded her that we would be AT Disney. She then decided to share with me that she is RAISING the prices of the different classes. I asked her what the cost of year two was NOW, and she told me $295.00!! I cannot afford Cotillion if she continues to raise rates. I called a friend, who has two daughters in Cotillion, and she told me that she is very concerned about the cost of Cotillion. So, today, I have been looking into starting a local chapter. We are having to drive out of town now to attend and our local parents are the ones doing all of the work!
All in all, I had a really nice day. I love it when God brings new people into my life!!