We had a great time at the Disney World Resort. All of us loved staying on site. Mark said that not having to drive the entire three days and fight the traffic was a great benefit of being a resort guest.
We arrived at 9 AM on Friday morning and the French Quarter had our room ready and waiting for us! I was able to pay the balance on the room and buy our park passes right in the lobby of the hotel. This was another great time saver at the parks! After our luggage was unpacked, we caught the bus to MGM where we spent a blissful day!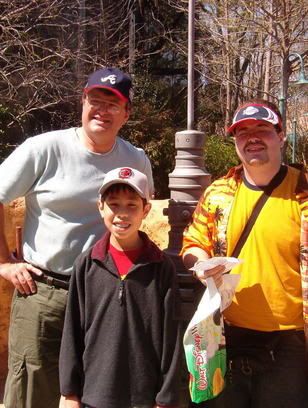 On the advise of some online friends, I had made dinner reservations at the Hollywood and Vine which included reserved seating for the Fantasmics. The buffet dinner was scrumptious. Mark and I were able to chill out for a bit with coffee and the boys checked out some of the area attractions. We got to Fantasmics at 6:30 and obtained SUPER great seats. The show was a blast!
Saturday morning we ate breakfast at our resort and Mark and Michael went to see the Braves play Detroit. The Braves lost. Paul and I went to Downtown Disney where Paul found an magic store and bought Chinese sticks and a pack of cards. He has been entertaining us and the neighborhood with his *magic*! LOL It had warmed up enough for Paul to swim. While my little fish swam, I sat by the pool in capris and a light weight coat. Looking around Disney, one KNOWS who the northerners are - they are the ones wearing shorts, flip flops and swimsuits tops! Goodness, I was wearing a jacket most of the time. I really wanted to cover some of these gals up and tell them, "It's chilly!" The weather was perfect. It wasn't hot but felt like a fall or spring day in Tennessee.
Saturday evening, we celebrated Michael's birthday by heading over the to California Grill!! Watching the Fireworks Celebration fifteen stories up was a wondrous sight! Our waiter was attentive and he brought Michael out a huge piece of chocolate cake with a candle on it. Our seats were perfect, I just had to turn my chair around during the show. At 10 PM, the lights were slowly dimmed in the restuarant and familiar selections of Disney songs came floating through the air. The amazing Firework Celebration started with the entire show being narrated by the voice of the Cricket. All eyes were fixed in child-like wonder on the dark night skies which began to explode with brilliant colors! Indeed, it was a magical fifteen minutes.
Sunday morning, we packed our bags and emptied our room of all the treasures we had bought. After tummies were filled with a light breakfast and LOTS of coffee for the adults, we headed over to the Magic Kingdom. We rode or did 16 different things this day! Our favorites were Peter Pan, Mickey's Philharmonic, Stitch, and Space Mountain. The boys had started a pin collection on Saturday, so Paul had a ball trading with any and everyone!
We finally hit the road stopping for dinner at Cracker Barrel and made it home a little before midnight. This was a vacation to remember. The family is already planning our next trip! I made a believer out of Mark, who has always maintained that Disney wasn't worth the cost, time, or crowds. All in all, we had a MAGICAL time! GO DISNEY!!